Aware of the harmful effects of noise and vibrations, TRAFIC WAY is working on systems to limit the noise generated by its structures. This research project was set up at the beginning of 2000, and has been accelerated since 2004 with backing from the European Social Fund and the French agency ANVAR in the context of a program of innovation.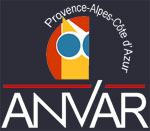 Rolling surface insulation (of series)
To avoid the rolling surface striking the frame of the module, all our panels in SKATELIFE®RS, galvanised steel, aluminium or stainless steel are fixed by elastic polyurethane adhesives and then riveted to the frame using MONOBOLT rivets. This layer of plastic limits the noise nuisance.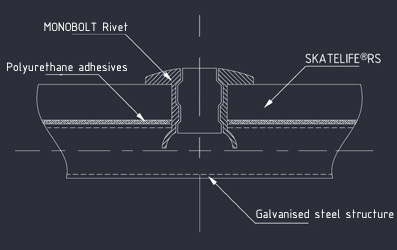 Leading edge/ground insulation (of series)
The joining between the leading edge and the ground could generate impact noise. To eliminate this, the leading edges of our modules are welded onto the frame of the rolling surface. We even propose to insert a 5 mm polyethylene strip of 200 kg/m3 density between the leading edge and the ground.
Coping insulation (on request)
The coping is in galvanised steel tube sealed at each end. Placed between the platform and the rolling surface, skate boarders use it for figures (wood/metal or metal/metal contact). We offer to fill the tube with polyurethane foam in order to limit the resonance.
Enclosing panel insulation (on request)
The TRAFIC WAY modules are generally erected without enclosing panels. This avoids noise resonance under the structure. Even so, if requested we can enclose the modules in galvanised sheet panels 2mm thk. In this case, TRAFIC WAY offers to double the walls using insulators like :
- self-adhesive & absorbing polyurethane foam 30mm thk. This product absorbs the sound waves due to the shocks on the structure.
- viscoelastic & damping complex which attenuates the phenomena of vibration.